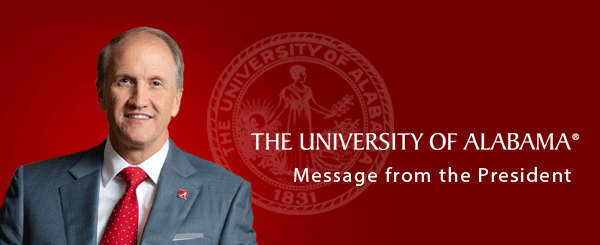 Dear Campus Community:
In just nine days, the fall semester will begin and our campus is already alive and bustling with preparations and activity. I have had the chance to meet a few new students around the Quad, and I have been pleased to see the consistent use of face coverings and the upholding of required social distancing measures. The University has important health and safety procedures in place to protect our students, faculty and staff, and masks and physical distancing are two essential ways in which we can all help prevent the spread of COVID-19 this fall. Thank you for showing that you care about your University family. Your personal commitment to following these guidelines is what will allow us to continue to be on campus and enjoy the Alabama experience we all love.
Last week, the Board of Trustees of The University of Alabama System shared a revised, updated UA System Health and Safety Plan.  By tapping the expertise across our campus, system and numerous health experts, we will continue to nimbly adapt our policies as needed to keep our campuses as safe as possible. Among the modified provisions are the Test + Train + Check = Welcome Back steps every student and employee must follow prior to returning to campus. Similar updates to the UA campus plan will be posted and shared later this week. I encourage you to carefully review the summary of the revisions to these plans before the fall semester begins.
Students, on Aug. 5 the Division of Student Life kicked off the Weeks of Welcome events by hosting UA's first virtual Acoustic Karaoke Night. The University Programs team has been hard at work planning safe, fun events to help you create unforgettable memories during your first weeks on campus.
I also want to congratulate the 10 UA students who were awarded scholarships through the Benjamin A. Gilman International Scholarship Program during the 2019-2020 academic year to study or intern abroad. UA students continue to pursue excellence and to reap the rewards of their academic efforts.
Well-deserved praise is also extended to Dr. Mark Nelson, dean of the UA College of Communication and Information Sciences, his esteemed faculty and the extraordinarily talented students in the UA Department of Advertising and Public Relations. The department was named the Most Outstanding Education Program in the nation during the 2020 PRWeek Awards in late July. It was the department's ninth recognition as a finalist for the award, and first selection as the top public relations program in the country. We are very proud of their ongoing success.
Finally, special recognition is merited for another UA first. Art history faculty members Dr. Tanja Jones and Dr. Doris Sung were awarded the Capstone's first Digital Art History Grant from the Samuel H. Kress Foundation. Their impressive work is yet another example of the valuable contributions of our gifted and respected faculty. I know our faculty and staff are ready to be back with our students — doing what they love and do so well.
The campus is ready. Our safety measures are in place, and I have every belief and expectation that each member of our campus community will do his or her part to maintain a safe and healthy environment this fall. Now, it is time to come back to your campus home and step into your remarkable futures. We begin the fall semester Tide Together, and we will remain united and successful as one campus community. I will see you soon.
Roll Tide!
Stuart R. Bell
President