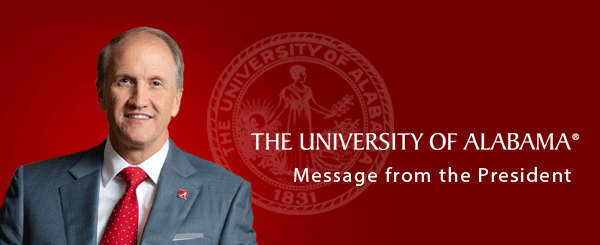 Dear Students, Faculty and Staff:
Last week, The University of Alabama System announced plans for a return to traditional in-person instruction without classroom capacity restrictions for the Fall 2021 Semester. As we plan for the fall, we will continue to work with the UA System Health and Safety Task Force and monitor recommendations from the Centers for Disease Control and Prevention and the Alabama Department of Public Health to ensure the well-being of our entire UA community. And, while we currently have a record low number of COVID-positive students, faculty and staff, continuing to follow recommended safety measures is essential for our ongoing progress.
In the persistent pursuit of academic excellence, our high achieving students, faculty and staff continue to excel academically and break boundaries. For the fifth time in the past six years, UA has been recognized as a Top Producing Institution for Fulbright U.S. Student Awards, widely considered one of the most prestigious international scholarships. We are immensely proud of the 17 students in the 2020-2021 cohort. In addition, the Capstone's highest honors, the Premier Awards, were recently awarded to nine students, faculty and staff who personify UA's character to the highest degree. Finally, The University of Alabama Dance Marathon announced its impressive fundraising total of $303,126 for the Children's Miracle Network Hospital at Children's of Alabama in Birmingham. Our people continue to learn, teach and serve with integrity.
Our momentum continues on the hardwood as congratulations are due to Alabama Crimson Tide Men's Basketball Coach Nate Oats and our talented student-athletes for securing UA's first regular season SEC championship since 2002. Coach Kristy Curry and our women's basketball team have also enjoyed a fine season and are well-positioned for a berth in the NCAA Tournament. We are immensely proud of both teams and look forward to cheering them on throughout March Madness.
March also brings the celebration of Women's History Month. In recognition of the many outstanding achievements of women throughout history, I encourage you to learn more about those who played important roles at our institution and others who continue to inspire future generations as trailblazers. Many of today's impactful innovators, artists and journalists, and other professionals, are UA alumnae who have made tremendous contributions to society. We are proud to honor all women, especially those who have made lasting contributions to our University, state, nation and beyond.
Finally, students — as you continue to prioritize your academic focus this semester, don't forget Monday, March 15, is a non-instructional wellness and study day. It's important to set aside time to rest and reflect so you can recharge and finish the semester strong.
I remain thankful for the resiliency, dedication and determination of our UA community. You are our change makers and the dream builders of a better future. Thank you for how you represent this University and its values.
Tide Together,
Stuart R. Bell
President