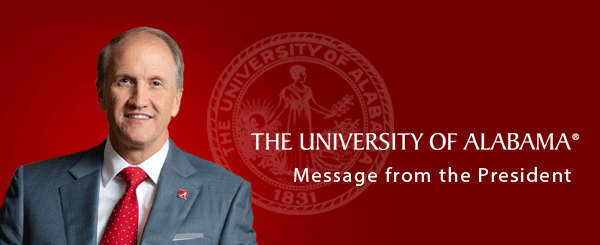 Dear Faculty, Staff and Students,
Over the weekend we celebrated nearly 1,800 students who participated in UA's fall commencement ceremonies. For the class of 2020, comprised of students from every state and 19 countries, it was a monumental achievement forged by persistence and determination. I invite you to share in some of their stories and the remarkable journeys they took to achieve their educational goals at the Capstone.
As I reflect on our efforts since last spring, I am deeply grateful for all you have contributed to our success. Last week, I shared my pride and gratitude with our students for all they have achieved this year. Likewise, I could not have asked for a more caring, dedicated and supportive group of professionals than the faculty and staff who serve the students on this campus. It is an honor to work with you.
Faculty, thank you for your commitment and ingenuity. Through your flexibility and creativity, you found innovative ways to share your expertise and talents with our students and propel them to finish strong. Your efforts and personal investment are the foundation from which Alabama students will leave our campus and impact the world.
And, to our dedicated and resourceful staff — you deserve sincere appreciation. Your resilience has paved the way for the University to continue to achieve its mission. You have remained engaged, driven and invested in our University's and students' success. Thank you for your adaptability and your unwavering dedication to our campus community.
We look forward to cheering on the Crimson Tide in this weekend's SEC Championship game and hope everyone will enjoy some richly deserved rest over the holidays.
Wherever you are this holiday season, Susan and I wish you joy, prosperity, good health and peace. As the celebrations begin, I'm happy to share this festive video from me and a few other familiar faces.
Roll Tidings!
Stuart R. Bell
President
P.S. If you have not had the opportunity to make a contribution to our United Way campaign, I hope you'll consider doing so this week. The need in our community is greater than ever, and we still have a few days to reach our campaign goal