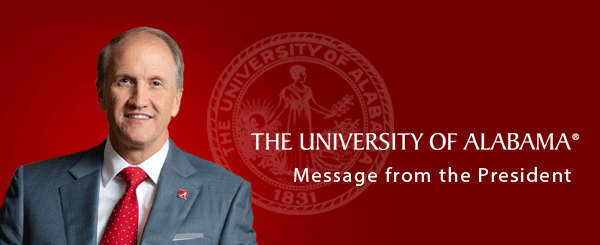 Dear Faculty, Staff and Students:
The University of Alabama annually reaffirms its full commitment to equal opportunity, nondiscrimination and affirmative action, including the policies and procedures that prohibit discrimination and unlawful harassment throughout our campus community. This commitment is supported by our strategic plan, which includes our goal to "enrich our learning and work environment by providing an accepting, inclusive community that attracts and supports a diverse faculty, staff and student body." A central objective of the goal is to enhance the recruitment, hiring and retention of diverse faculty, staff and administrators.
I pledge my personal commitment to uphold the values expressed in this declaration, as well as to equal opportunity and nondiscrimination in all employment-related decisions. I trust all of you will join me in this pledge.
Please review the Equal Opportunity, Nondiscrimination, and Affirmative Action Policy Statement and contact the appropriate office or individual if you have any questions. This policy, as well as other policies and information related to equal opportunity and unlawful discrimination in employment and education, is available on the Equal Opportunity Programs website and the Human Resources website.
Stuart R. Bell
President