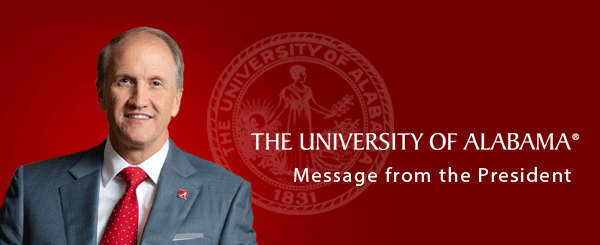 Dear Students, Faculty and Staff:
The past month has been a unique experience for our campus community. We have faced individual challenges and difficulties, but the foundation of The University of Alabama is strong, and our mission of transforming lives through teaching, research and service has not wavered. We are in this together, and our foremost priority remains the safety and well-being of our students, faculty and staff.
Last night, UAPD, Tuscaloosa Fire Rescue and UA facilities crews worked tirelessly to contain a fire in the third-floor sections of the south wing of the Moody Music Building. We are thankful for the quick response and efforts of our first responders. Director of Bands Ken Ozzello and School of Music Director Charles "Skip" Snead were also on-site alongside Mayor Walt Maddox and me throughout the evening. While the cause of the blaze and the extent of the damage is still unknown, what matters most is that no one was injured.
Even as national events unfold, our students continue to do their part in communities around the globe. UA senior John Glidden III returned to his hometown of Closter, New Jersey, where he is volunteering as an EMT at both a virus testing site and a non-profit ambulance service. While he's finishing his final few weeks of classes and preparing for his future career at Lockheed Martin as an aerospace engineer, John is also giving back to those in need. He is a great example of how one person can contribute, even in a time of adversity. Other UA students in a group calledUASpace are now working to inspire the next generation of students to pursue STEM fields. UASpace members created math and science lessons for Alabama public school students that help bring virtual space-centered instruction to rural areas of the state for students learning at home. These students exemplify the actions of thousands of UA students who are actively helping those in need.
Even with social distancing measures in place, UA's Career Center continues to find innovative ways to support our students and their professional goals. Now more than ever, students can stay connected through Handshake, UA's online recruiting system where employers can link with students to do virtual events, career fairs and interviews. Companies in the state and across the nation continue to recognize the value of a degree from Alabama, and we will continue to offer resources to aid our students' internship placements and job searches.
The University of Alabama's Writing Center and Capstone Center for Student Success have also made the transition to online services. Tutors at the Writing Center are available to provide personalized writing assistance, while the Capstone Center for Student Success is offering free online tutoring, academic coaching and skills sessions through Zoom. I encourage our students to utilize these valuable resources as the semester draws to a close.
We remain hopeful of the possibility of returning to on-site instruction later in the summer. Recently we announced that all summer courses with a class start date before June 22 will be taught in an online or remote format, which includes Interim, summer 1 and full summer term sessions. Even though we would like to see our students back on campus sooner, we are confident in the quality of our online programs, which offer students appealing multimedia content and easy access to their instructors and peers.
Prospective and admitted new students are still visiting Tuscaloosa, just in a different, virtual way. Our essential research efforts continue to move forward, and we continue to deliver superior coursework. We invited our Spring 2020 graduating class to join the summer commencement program. We also continue to provide students with the opportunity to accessshort-term financial help with housing, technology, travel and other necessities.
We remain strong. We remain determined. We remain a community.
Thank you for the courage and compassion you continue to demonstrate. You make me proud, and I am honored to serve as your president.
Roll Tide!
Stuart R. Bell
President