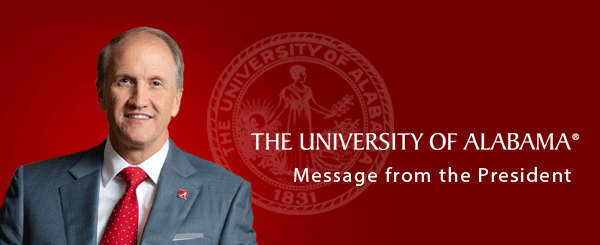 Dear Faculty, Staff, Students and Parents,
I am very encouraged by the trends regarding COVID-19 cases on our campus and I am optimistic about finishing the fall semester together and returning for the spring semester with increased in-person learning and community opportunities. I am extremely grateful for the enduring commitment demonstrated by our faculty, staff, students and their families during these challenging times. That commitment and resilience have allowed us to continue to be on our campus and now to look forward to an engaging spring semester.
Tomorrow we will deliver important campus updates via our virtual Fall Campus Assembly for faculty and staff. I look forward to sharing good news concerning our progress as a University while also highlighting the recent achievements and remarkable contributions of our campus community. We will recognize our outstanding faculty and staff, including naming recipients of some of our most prestigious awards.
Speaking of awards, the University Awards Committee is currently accepting applications for UA's six Premier Awards, the highest honors given here at the Capstone. The awards are presented to remarkable students, faculty and staff who exemplify the highest standards of scholarship, service, leadership and character. The application/nomination deadline is Nov. 15, and recipients will be celebrated during the spring semester.
The 2020 Beat Auburn Beat Hunger Food Drive kicked off Oct. 1 and will run through Nov. 19. All food and monetary donations benefit the West Alabama Food Bank, which serves nine counties. Now more than ever, families need our support to provide nourishment for their loved ones. I encourage you to help us beat Auburn again this year in this friendly, worthwhile competition.
We will welcome the Georgia Bulldogs and College GameDay this weekend for a Top 5 gridiron showdown. The eyes of the nation will be on us once again as Coach Saban and our student-athletes represent the University with class and pride. I am very proud of how our students and fans have responded to the stadium guidelines established to ensure a safe game day experience.
In closing, with only 60 days until fall commencement, each of us has so much for which to be thankful. I appreciate your ongoing dedication and support as we finish the semester strong andTide Together.
Stuart R. Bell
President