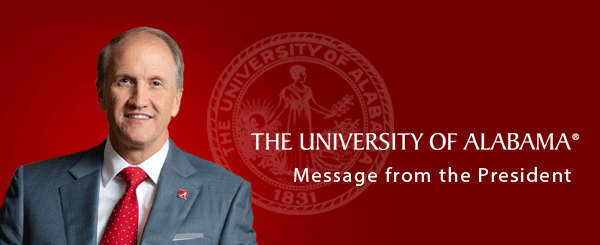 Dear Spring 2020 Graduating Class,
The recent change to remote learning and the challenges we are all facing during this unprecedented time for our nation and our University have greatly affected us all. I know those planning to graduate this spring were looking forward to our traditional commencement activities.
Commencement is a milestone marking the end of one valuable journey while forging the beginning of a new, promising path.   It is a special time for you, your family and our faculty, and I want you to have the opportunity to walk across the stage in celebration of your success.
Although our plans must be contingent on how our summer health outlook progresses, we are moving forward to include our spring graduates in our summer commencement events scheduled for Friday, July 31 and Saturday, August 1.  Please consider this special invitation to join those ceremonies.  We will be providing more details in the coming weeks on how to register and the date and times for each ceremony.
We will also be recognizing the achievements of our spring 2020 graduating class in May through online and social media outlets to highlight our shared pride in you. No matter where you are as you finish the semester, you are an important and special part of our UA family. As you finish the semester strong, know we are right here cheering you on. I look forward to congratulating you on stage very soon. I am very proud of the many ways you have excelled in your time with us and will continue to excel.
Roll Tide!
Stuart R. Bell
President