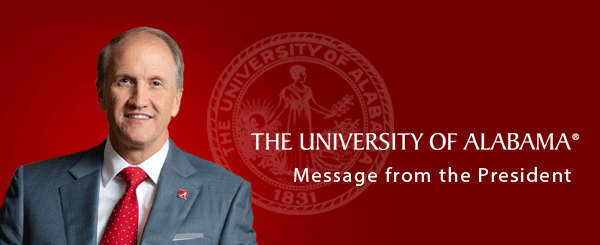 Dear Students, Faculty and Staff,
The Summer 2 term begins today, and I want to send congratulations for several recent student accomplishments. Our UA community is leading and achieving in remarkable ways.
The UA EcoCAR Mobility Challenge team was recently named the third-year champion of the four-year national auto engineering competition, besting 10 other universities. We commend their success and will keep a close watch on next year's final round of the competition. And our Model UN team showcased their talents in leadership and public speaking in the 2020-2021 North American College Model U.N. World Division, moving up 10 spots in the rankings and claiming UA's first delegation award at a ranked conference.
An impressive 11,813 full-time undergraduate students were named to the Dean's List or President's List for Spring 2021, an indicator of their notable academic endeavors. And soon we will recognize over 1,000 student candidates at UA's two summer commencement ceremonies on July 31 at Coleman Coliseum.
Talented students like these are cultivated by our esteemed faculty. During the past academic year, four UA professors received early-career national recognition for leading-edge research through the National Science Foundation. Dr. Chris Crawford, Dr. Adam Hauser, Dr. Jason Pienaar and Dr. Aijun Song were the recipients of CAREER Awards, one of the nation's most prestigious recognitions of top-performing young scientists. Their research advances knowledge and enhances lab instruction, but their work also has outreach potential in local schools and in our community. The Alabama Water Institute also recently selected three UA faculty members as inaugural fellows in the AWI Faculty Fellowship Program. Congratulations to Dr. Lisa Davis, Dr. Leigh Terry and Dr. Milad R. Esfahani for their contributions and support of our next generation of water-research scientists.
We also want to recognize some of the unsung heroes of the Capstone who make a difference every day. Throughout the summer we will be highlighting some of our Everyday Champions who work behind the scenes to support our community with a spirit of pride, determination and ingenuity. We are honored to spotlight these individuals and I hope you will join me in thanking them for their many contributions.
Finally, I would be remiss if I didn't take one last opportunity to recognize the incredible accomplishments of our student-athletes. To say it has been an impressive year seems understated. An extraordinary 18 of our 21 teams reached the national postseason this year, with football participating in the College Football Playoff and 17 teams competing in NCAA Championship events. From winning the CFP National Championship to cheering on the softball team in the Women's College World Series to witnessing numerous individual accolades and honors, UA student-athletes dominated the competition. Their collective efforts have culminated in a No. 7 national ranking of the Learfield IMG College Directors' Cup standings, which includes fall and winter sports. Final rankings will be announced later this week, and we are in a great position for our highest finish in program history.
In academia, research and athletics, we continue to prove we are champions. UA is the catalyst for legendary results, and I am honored to serve as your president.
Roll Tide!
Stuart R. Bell
President