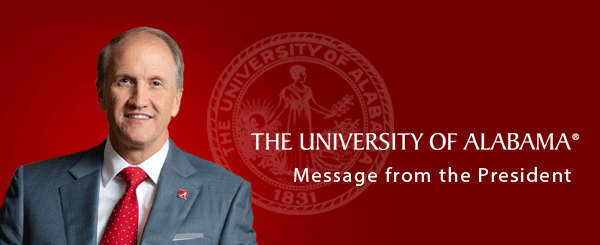 Dear Students, Faculty and Staff,
As the summer sessions continue, I want to take a moment to outline the numerous resources and reporting options available at The University of Alabama for those affected by sexual misconduct and protected class harassment and discrimination. Please take the time to read this important message in its entirety and continue to partner with us in our ongoing efforts to combat and eliminate sexual misconduct.
The UA Office of Equal Opportunity and Title IX Programs works with University administration, departments, students, faculty, staff, campus police and other support services to ensure that University policies and programs foster a campus community free of discrimination and harassment based on protected classes and sexual misconduct. In addition, the Office of Equal Opportunity and Title IX Programs will assist complainants in notifying UAPD or local law enforcement if requested. For comprehensive information about the Office of Equal Opportunity and Title IX Programs and to report sexual misconduct, please call the University's Title IX Coordinator, Jessica Humber, at 205-348-5496 or email to jbhumber@ua.edu. The UAPD may also be contacted 24 hours a day, 7 days per week by calling 205-348-5454. Further on-campus counseling and support services are available from the UA Student Health Center and Pharmacy, University Medical Center, Safe Zone Resource Center, Women and Gender Resource Center, UAct Program, UA Counseling Center and Employee Assistance Program.
The Tuscaloosa SAFE Center, another valuable resource in the Tuscaloosa community, is located at 1601 University Blvd. East, Suite 150. The Center offers high-quality care in a compassionate, patient-centered environment to anyone 14 years old or older affected by sexual assault and can be reached at 205-860-SAFE (7233). I also recommend you download the UA Safety App, which provides students and employees with immediate access to information in case of an emergency, including the ability to quickly contact campus and area law enforcement agencies.
I encourage you to review UA's Title IX and Sexual Misconduct Policy, which describes in detail how the University may take action and assist affected individuals involved in a sexual misconduct report. Individuals found in violation of this policy will be subject to corrective action, including potential termination from employment or expulsion from the University. Supportive measures to aid victims may include medical treatment, counseling services, academic support, housing support, no contact orders, safety planning, employment assistance and filing of student conduct complaints.
Discrimination and harassment based on protected classes, including sex or gender, are prohibited in any educational program or activity, including: athletics, recruitment, admissions, financial aid and scholarships, course offerings and access, counseling, hiring and retention of employees, and benefits and leave. For more information, please read the University's Equal Opportunity, Non-Discrimination, and Affirmative Action Policy and Harassment Policy. For more information regarding the Office of Equal Opportunity and to report protected class discrimination or harassment, please contact the University's Director of Equal Opportunity, Marques Evans, at 205-348-5855 or evans061@ua.edu.
As president, I pledge to continue regularly sharing information about the resources available to our community members. The University remains devoted to providing an environment free from discrimination or harassment based on protected classes and expects everyone who lives, works, teaches and studies within this community to contribute positively to the environment. Please refrain from any behaviors that threaten the freedom or respect due to every human being. Your support and partnership are key to our success.
Stuart R. Bell
President