Message from the President April 13, 2020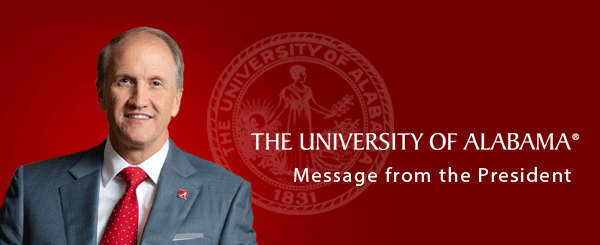 Dear Students, Faculty and Staff:
It is hard to believe there are only three weeks remaining in the spring semester. I miss seeing our students on campus. I know the current circumstances in our nation do not define us as a University, but they do give us an opportunity to grow in thankfulness and grace and to rally together for the good of those around us.
I have never been prouder to lead this institution, as we witness the kindness and resiliency of our people. UA students continue to find ways to be compassionately involved in relief efforts. Students have been shopping for seniors through a free grocery delivery service in Tuscaloosa and Birmingham called Leave it To Us, a non-profit organization begun in Chicago during spring break by UA junior Michael Arundel. UA freshman Nathan Eads is managing a student group in Atlanta making 3D printed face shields for health care workers funded through a gofundme.com account created to raise revenue for the cause. UA junior Matthew Roy, who plans to attend medical school next year, is volunteering at the Ross Bridge Medical Center test site in Hoover with a small group of others, contacting patients through telemedicine and assisting with test sampling. These stories are just a small sample of the many ways our students are responding to the needs of others during this unique time, and I will be sharing more examples in the coming weeks.
We also continue to observe special ceremonies traditionally held on campus. Our UA community cherishes the recognition of the achievements of our graduating class at commencement. Although our plans must be contingent on how our summer health outlook progresses, we are moving forward to provide the spring Class of 2020 with the same opportunity to celebrate. Students who were approved to graduate in May are invited to be part of the summer commencement programs on Friday, July 31, and Saturday, August 1. We will be sending out more information in the coming weeks and hope all spring graduates will be able to join us. Last Friday, we also held a live virtual Tapping on the Mound ceremony to induct new members in University honor groups and to recognize various recipients of student and faculty awards.
Even in the midst of current events, I encourage all our students to complete a 2020 Alabama census form, which is also available online. The census is vital to determining funding to the state for important health care, education, housing and infrastructure development programs. Congratulations are also in order for UA student Hannah Slater, a Randall Research Scholar studying chemical engineering and chemistry and the 57th UA recipient of the prestigious Goldwater scholarship. The UA campus community is also invited to attend video presentations by the five finalists for the position of UA executive vice president and provost, beginning April 13 and continuing through April 28. The presentations will be recorded and posted on the provost search website, and you can send questions for the candidates in advance to Dr. Russ Mumper, chair of the search committee, at mumper@ua.edu.
Finally, I again want to recognize our esteemed faculty for their ongoing success in providing meaningful and thought-provoking content for their courses and for supporting their students to success. UA's Center for Instructional Technology, led by Dr. Ivon Foster-McGowan and Dr. Rachel Thompson, is providing essential support to all UA faculty, instructors, staff, graduate students and undergraduate students needing assistance with instructional technology and technology accessibility, and we're grateful for their expertise.
As the semester continues, I encourage you to remain committed to your goals and to finish with the resolve with which you began. You are our champions, and I am honored to be your president.
Stuart R. Bell
President