Congratulations to the spring Class of 2020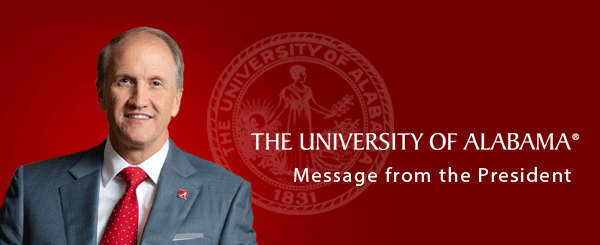 Congratulations to the spring Class of 2020! Last week, we honored and recognized the accomplishments of our 6,326 spring graduates who have been invited to participate in UA commencement ceremonies later in the summer. I look forward to celebrating that milestone moment with them in person. As our graduates continue to celebrate with their families and friends this week, our UA community takes great pride in their success. When they enrolled at Alabama, they were among the best in the nation, and they stayed that course. I sent them each a special message of congratulations, recognizing that as UA graduates and future legends, they are now embarking on new paths to change the world.
Spring Class of 2020 graduate Anne Dillon Loflin is leaving UA with an experience in arts advocacy and arts education that changed her life. The dance program Loflin began for students in UA's CrossingPoints, including her cousin, the late Walt Gary, will continue under the direction of UA students who share Loflin's love for artistic expression as a means of developing community. With the end of the spring semester, many UA students remain actively engaged in service efforts. Sophomore Abigail Gunter, who became passionate about helping feed the hungry through the Beat Auburn Beat Hunger food drive, is serving free meals to students in the Tuscaloosa City Schools. Newly elected SGA president Demarcus Joiner is collaborating with Alabama Gov. Kay Ivey and 15 other SGA presidents in public institutions across the state to promote blood donation efforts. Now more than ever, UA students are demonstrating the resiliency and innovation that have been a staple of our institution for many years.
In a continued spirit of fellowship and support for the University and its alumni, students, parents and friends, the UA National Alumni Association recently made a $50,000 contribution to the Tide Together Student Support Fund. The fund is a lifeline for many UA students who need extra assistance, and we remain grateful for the support from those who can contribute.
Finally, Alabama fans are very proud of the nine former Crimson Tide football players recently selected in the 2020 NFL draft, including four in the first round. From student-athlete accolades to nationally recognized academic programs, cutting-edge research and community engagement, The University of Alabama boldly produces champions and change-makers.
As we turn our attention to the upcoming summer sessions, we are actively planning for in-person instruction this fall. I have appointed a campuswide task force, which will work with faculty and staff and in concert with the UA System, to implement safety and health initiatives in preparation for the return of our campus community. We continue to fulfill our mission at the highest level, recruit great young people to our campus and provide an education and experience second to none. We will meet the challenges and put into action the plans that will get us to where we need to be. I am eager to see you all soon, and it remains my honor to serve as your president.
Congratulations again, spring Class of 2020. You are one of the most gifted classes we have ever seen, and we could not be more proud of you.
Roll Tide!
Stuart R. Bell
President