Capstone e-Letter for May 29, 2019
May 29, 2019 
At the Capstone, we all work together to advance UA's mission and to change lives through teaching, research and service. I'm proud of the many accomplishments of our faculty, staff and students, who work so tirelessly to make this University such a special place. Great things continue to happen at Alabama, and we thank you for being part of them.
Roll Tide!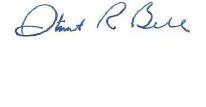 $1.4 MILLION GRANT CREATES ALABAMA POWER INNOVATION FUND —
The University of Alabama has been awarded a $1.4 million grant from the Alabama Power Foundation to support business innovation, entrepreneurship, small business growth and talent retention in the state.
https://www.ua.edu/news/2019/05/1-4-million-grant-establishes-alabama-power-innovation-fund/
MESSINA NAMED DEAN OF UA'S COLLEGE OF ARTS AND SCIENCES —
Dr. Joseph P. Messina has been named the next dean of UA's College of Arts and Sciences. He will begin his tenure in August.
https://www.ua.edu/news/2019/05/messina-named-dean-of-uas-college-of-arts-sciences/
ACT CARD IN APPLE WALLET WINS NATIONAL AWARDS —
The Action Card Office's work in pioneering the ACT Card in Apple Wallet technology, released last fall, has reaped four national awards.
https://www.ua.edu/news/2019/05/act-card-in-apple-wallet-wins-national-awards/
ON THE HUNT FOR THE REMNANTS OF SURVIVING SLAVE HOUSES — 
Natalie Mooney may have discovered a pattern to find slave houses in the Alabama Black Belt region that have been lost to time.
https://www.ua.edu/news/2019/05/on-the-hunt-for-the-remnants-of-surviving-slave-houses/
DATA SHOWS BUCKLING UP SAVES LIVES IN AUTO CRASHES —
Nearly half of the people killed in auto crashes in Alabama last year were not wearing a seat belt, according to an analysis of state crash records.
https://www.ua.edu/news/2019/05/data-shows-buckling-up-saves-lives-in-auto-crashes/
We hope you find this e-letter interesting and useful. If you have comments or would like to add other UA friends to the Capstone e-Letter list, please contact ddclements1@ua.edu.