Capstone e-Letter for May 15, 2019
May 15, 2019
At the Capstone, we all work together to advance UA's mission and to change lives through teaching, research and service. I'm proud of the many accomplishments of our faculty, staff and students, who work so tirelessly to make this University such a special place. Great things continue to happen at Alabama, and we thank you for being part of them.
Roll Tide!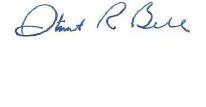 10 UA STUDENTS, GRADUATES CHOSEN FOR FULBRIGHT AWARDS —
Ten University of Alabama students and graduates were chosen as Fulbright Student Award Winners for 2019–2020. In addition, six UA students were chosen as alternates.
https://www.ua.edu/news/2019/05/10-ua-students-graduates-chosen-for-fulbright-awards/
RESEARCHERS FIND PATTERNS WITH EXTREME FLOODS —
Extreme floods across the continental United States are associated with four broad atmospheric patterns, a machine-learning based analysis of extreme floods found.
https://www.ua.edu/news/2019/05/researchers-find-patterns-associated-with-extreme-floods/
UA PROFESSORS CHOSEN FOR FULBRIGHTS —
Three UA faculty members will receive Fulbright Scholar Grants for the upcoming year.
https://www.ua.edu/news/2019/05/ua-professors-chosen-for-fulbrights/
ZOMBIE-LIKE CELLS QUICKEN DRUG DISCOVERY METHOD — 
Researchers are using zombie-like cells that behave normally on the outside, but are filled with magnetic particles inside, to screen potential drugs from natural products.
https://www.ua.edu/news/2019/05/researchers-quicken-drug-discovery-method-via-zombie-like-cells/
NATIONAL ALUMNI ASSOCIATION NAMES TOP SENIORS FOR 2019 —
Each year, the National Alumni Association honors outstanding seniors who exemplify strong character and achievement while attending UA. The awards are presented as a testament to the Alumni Association's pride in these students.
https://www.ua.edu/news/2019/05/national-alumni-association-names-top-seniors-for-2019/
We hope you find this e-letter interesting and useful. If you have comments or would like to add other UA friends to the Capstone e-Letter list, please contact ddclements1@ua.edu.