Capstone e-Letter for May 1, 2019
May 1, 2019
At the Capstone, we all work together to advance UA's mission and to change lives through teaching, research and service. I'm proud of the many accomplishments of our faculty, staff and students, who work so tirelessly to make this University such a special place. Great things continue to happen at Alabama, and we thank you for being part of them.
Roll Tide!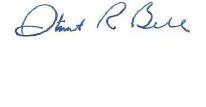 HALBESLEBEN NAMED DEAN OF UA'S CONTINUING STUDIES —THREE UA STUDENTS LAND GOLDWATER SCHOLARSHIPS  —
The Barry Goldwater Scholarship and Excellence in Education Program has selected three UA students as Goldwater Scholars for 2019-20.
https://www.ua.edu/news/2019/04/3-ua-students-land-prestigious-goldwater-scholarships/
Dr. Jonathon Halbesleben, a UA scholar and administrator, has been named dean of UA's College of Continuing Studies.
https://www.ua.edu/news/2019/04/halbesleben-named-dean-of-uas-continuing-studies/
COCA-COLA RENEWS FIRST GENERATION PROGRAM —
The Coca-Cola Foundation is continuing its support for the Coca-Cola First Generation Scholars program at UA with a new four-year grant of $1 million.
https://www.ua.edu/news/2019/04/coca-cola-renews-first-generation-program-with-1-million-grant/
UA RANKS SECOND FOR NATIONAL MERIT SCHOLARS — 
UA ranks second nationally among public universities and fifth among all universities nationwide in enrollment of National Merit Scholars for the 2018 entering class.
https://www.ua.edu/news/2019/04/ua-ranks-second-among-publics-for-national-merit-scholar-enrollment/
TIME LISTS HEWSON AMONG WORLD'S 100 MOST INFLUENTIAL —
Marillyn A. Hewson, a UA alumna and chairman, president and CEO of Lockheed Martin Corp., has been named one of TIME magazine's "100 Most Influential People in the World" for 2019.
https://www.ua.edu/news/2019/04/time-lists-hewson-among-100-most-influential-people-in-the-world/
We hope you find this e-letter interesting and useful. If you have comments or would like to add other UA friends to the Capstone e-Letter list, please contact ddclements1@ua.edu.