Capstone e-Letter for June 12, 2019
June 12, 2019 
At the Capstone, we all work together to advance UA's mission and to change lives through teaching, research and service. I'm proud of the many accomplishments of our faculty, staff and students, who work so tirelessly to make this University such a special place. Great things continue to happen at Alabama, and we thank you for being part of them.
Roll Tide!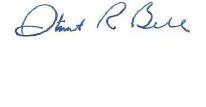 ROBOTICS TEAM WINS NASA'S GRAND PRIZE AGAIN —
For the fifth consecutive year, the student robotics team from The University of Alabama won NASA's grand prize in its Robotics Mining Competition.
https://www.ua.edu/news/2019/06/ua-robotics-team-wins-nasas-grand-prize-for-fifth-consecutive-year/UA'S OFFICE FOR RESEARCH AND ECONOMIC DEVELOPMENT LAUNCHES STRATEGIC PLAN —
The five-year strategic plan will help facilitate growth and impact of the research enterprise on campus.
https://www.ua.edu/news/2019/06/office-for-research-and-economic-development-launches-strategic-plan/
FACILITIES AND GROUNDS WINS INNOVATION AWARD —
UA's facilities and grounds department was named the 2018 winner of the Association of Physical Plant Administrators' Effective and Innovative Practices Award.
https://www.ua.edu/news/2019/06/facilities-and-grounds-wins-international-innovation-award/
UA-LED CLINICAL TRIAL FINDS NO DIFFERENCE IN TINNITUS TREATMENTS — 
A long-awaited, rigorous, randomized clinical trial comparing treatments for tinnitus, a perception of ringing in the ears, found no significant difference in patient outcomes between an innovative treatment and current standard treatment.
https://www.ua.edu/news/2019/05/ua-led-clinical-trial-finds-no-difference-in-tinnitus-treatments/
'WE'RE TRYING TO TRANSFORM EDUCATION' —
UA elementary education majors recently wrapped up a month's worth of STEM activities with four different classes at Woodland Forrest Elementary School.
https://www.ua.edu/news/2019/06/were-trying-to-transform-education/
We hope you find this e-letter interesting and useful. If you have comments or would like to add other UA friends to the Capstone e-Letter list, please contact ddclements1@ua.edu.