Capstone e-Letter for July 17, 2019
July 17, 2019 
At the Capstone, we all work together to advance UA's mission and to change lives through teaching, research and service. I'm proud of the many accomplishments of our faculty, staff and students, who work so tirelessly to make this University such a special place. Great things continue to happen at Alabama, and we thank you for being part of them.
Roll Tide!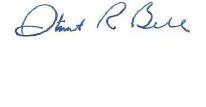 COLLEGE OF COMMUNITY HEALTH SCIENCES DEAN NAMED —
Dr. Richard Friend, a physician with extensive administrative experience in family medicine at two universities and who also spent 10 years in private practice, has been named dean of CCHS.
https://www.ua.edu/news/2019/07/friend-named-dean-of-uas-college-of-community-health-sciences/
NEWMAN LEADS ALABAMA LIFE RESEARCH INSTITUTE—
Dr. Sharlene D. Newman, noteworthy researcher in cognitive neuroscience, is the new executive director of the Alabama Life Research Institute.
https://www.ua.edu/news/2019/06/cognitive-neuroscientist-to-lead-the-alabama-life-research-institute/
'LEGENDS' NAMED TOP AD CAMPAIGN IN INTERNATIONAL COMPETITION —
Where Legends Are Made won the top honor worldwide for advertising campaigns in higher education.
https://www.ua.edu/news/2019/06/uas-legends-named-top-ad-campaign-in-international-competition/
BUILDING BAMA: FACILITY UPGRADES ON CAMPUS —
Interior upgrades as well as construction projects are occurring this summer.
https://www.ua.edu/news/2019/07/building-bama-facility-upgrades-around-campus/
UA ARTISTS CONTRIBUTE TO ALABAMA BICENTENNIAL —
Art and art history students, faculty, staff and alumni have been intensely involved in the state of Alabama's 200th anniversary celebrations over the past two years.
https://www.ua.edu/news/2019/06/ua-artists-contribute-to-alabama-bicentennial-celebration/
We hope you find this e-letter interesting and useful. If you have comments or would like to add other UA friends to the Capstone e-Letter list, please contact ddclements1@ua.edu.