Capstone e-Letter for August 15, 2019
Aug. 15, 2019
At the Capstone, we all work together to advance UA's mission and to change lives through teaching, research and service. I'm proud of the many accomplishments of our faculty, staff and students, who work so tirelessly to make this University such a special place. Great things continue to happen at Alabama, and we thank you for being part of them.
Roll Tide!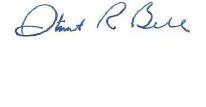 UA LAUNCHES 5-YEAR ECONOMIC DEVELOPMENT PRIORITIES, STRATEGIC GOALS —
The University of Alabama is launching a plan to spur economic development both as an innovative driver of growth in the state and to assist in strengthening economic activity. http://bit.ly/2TuvSOK
UA ALIGNS RESOURCES, COLLABORATION WITH BUSINESS INCUBATOR —
The robust push by UA to promote entrepreneurship both on campus and throughout the region is increasing with an alignment of resources to better support innovators. http://bit.ly/33B5EhV
UA CREATES PEDIATRIC FELLOWSHIP FOR FAMILY MEDICINE PHYSICIANS —
The College of Community Health Sciences has created an innovative fellowship program to provide comprehensive instruction for family medicine physicians seeking additional skills in pediatric care. http://bit.ly/30ciTUx
UA LEADS STUDY ON IRRIGATION-FED FARMING IMPACTS IN DEEP SOUTH —
Unique research led by UA will study whether more irrigation-fed farms in the Deep South could lead to a more robust agriculture industry, possibly becoming an even greater economic engine. http://bit.ly/2Z3A8Wz
UA TO IMPLEMENT TELEHEALTH NETWORK TO COMBAT OPIODS IN STATE —
UA will soon begin addressing opioid-related morbidity and mortality in four Alabama counties by developing a community care network to strengthen prevention, treatment and recovery. http://bit.ly/2yWChZu
We hope you find this e-letter interesting and useful. If you have comments or would like to add other UA friends to the Capstone e-Letter list, please contact ddclements1@ua.edu.