A Message from the President – September 1, 2021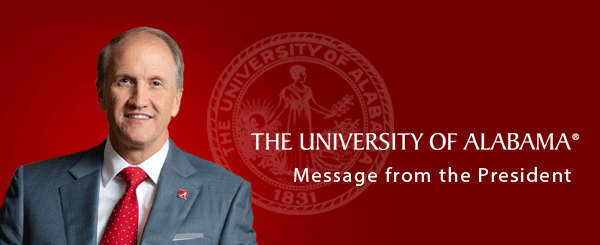 Dear Faculty, Staff and Students,
Because The University of Alabama remains committed to promoting and sustaining a safe, respectful campus environment, every semester I pledge to share important resources and reporting options to provide support for those impacted by sexual misconduct, gender discrimination or harassment. Please know we take these issues seriously. The well-being, safety and security of every member of our community is, and will remain, an absolute priority.
The UAct program provides a central location for information about reporting sexual misconduct and other issues. Any member or visitor of our campus community who has concerns about sexual harassment or sexual violence, including sexual assault, domestic violence, stalking, and dating violence, is encouraged to report those concerns by utilizing the reporting options designated by UAct. UAct designates multiple reporting options across campus and also includes an option to file a report online.
The University of Alabama Police Department, which can be reached at 205-348-5454, provides a comprehensive array of law enforcement services 24 hours a day, 365 days a year through a dedicated staff of sworn, state-commissioned police officers. University police officers work with Tuscaloosa County's violent crimes task force, which has jurisdiction for all investigations of sexual assaults that occur in the county.
In addition, the Women and Gender Resource Center provides victim advocacy and counseling services for members of the UA community who are victims/survivors of interpersonal violence, as well as family and friends who have been impacted by the abuse. On-call victim advocates are available 24 hours a day, including weekends and holidays, for crisis intervention and support.
The University's Counseling Center also employs counselors available to provide services to students affected by sexual misconduct and sexual assault. The Center also offers one-on-one counseling and outreach programming. Ulifeline contains many mental health resources that students may access at no cost to learn more about mental health, with free online mental health screenings also available.
All of these resources are summarized on the Sexual Assault and Misconduct Services and Support webpage. I encourage each of you to be informed about the resources and reporting options available. Please take the time to review UA's Title IX and Sexual Misconduct Policy, which provides information regarding how to report prohibited conduct, how a report may be addressed or investigated, options for informal resolution of reports, and supportive measures available to students and employees. For comprehensive Title IX information and to report sexual misconduct, please call the University's Title IX Coordinator, Jessica Humber, at 205-348-5496 or email her office directly at titleix@ua.edu.
One of the most important values at The University of Alabama is the belief in the inherent dignity of every member of our community. I hope you will personally commit to partner with us in an ongoing effort to combat sexual misconduct.
Stuart R. Bell
President