A Message from the President: Plan for Return to Full Operations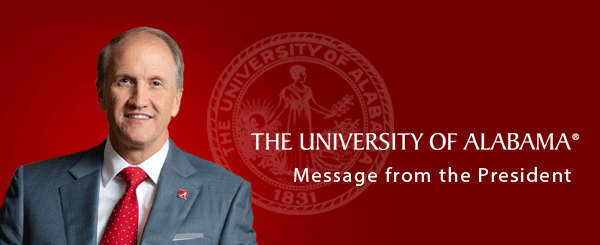 Dear Faculty and Staff:
Since March, we have faced extraordinary challenges that have tested our adaptability, our spirit and our resolve as a community. I am so proud of how the resilience, determination and character of our UA family have shown through.
COVID-19 affected how we ended the spring semester and decisions for our summer sessions. As we learn more from healthcare professionals in our System and other experts, we continue to plan for fall with a proactive approach to keeping our people healthy and safe while recapturing campus activities that are important to our students, faculty and staff. Campus has not been the same without you, and it will be wonderful to have everyone back together.
Through the extensive efforts of Chancellor St. John, the University of Alabama System Task Force, the President's Advisory Committee and with the Board of Trustees' support, we are pleased to share a draft of our Plan for a Return to Full Operations. The plan will guide our path through the summer and during our on-campus fall semester, which will begin August 19.
Our mission of transforming lives through teaching, research and service drives our plan, but we also recognize the necessity for preparation and training, reasonable accommodations, testing, tracking and managing those who may become affected by the virus. As part of the plan, we must all focus on doing our part to safeguard the vulnerable members of our campus community. Our timeline is for a phased return to full operations, a "new normal," this fall.
Pease carefully review the plan. The UA plan is governed by the System's Comprehensive Health and Safety Plan released last week. We will continue to post changes and updates to healthinfo.ua.edu/returnplan as they are made available.
As we move forward, I want to thank our faculty, staff, students and supporters for all that you continue to do for our great university. We are a community, united in purpose and committed to our mission. As we continue the summer sessions Still Tide Together, I look forward to seeing you on campus this fall.
Roll Tide!
Stuart R. Bell
President