A Message from the President – October 5, 2021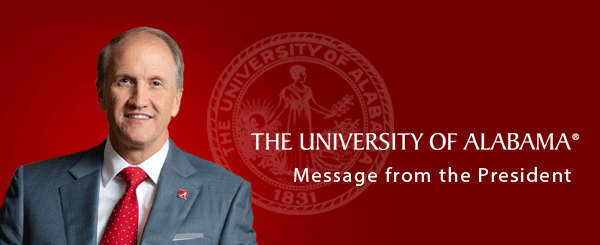 Dear Students, Faculty and Staff,
As we continue to expand our influence as a flagship university, every investment we make in our facilities is an investment in our UA community.
With the official opening of the Parker-Haun Tennis Facility, our champion wheelchair tennis team now has a championship-caliber facility. Likewise, our Alabama Initiative on Manufacturing Development and Education, Alabama IMaDE, opened the doors to its new manufacturing complex last week. The new center will provide students and faculty with high-end technology to engage in real-world experiences that will solve future industrial challenges.
I was pleased to learn we are one of six recipients of the 2021 WOW Award as a Digital Learning Hero by the Western Interstate Commission for Higher Education. The award recognizes the College of Continuing Studies' Instructional Technology and Academic Services and the Office of Information Technology's Center for Instructional Technology for their efforts to support our transition to emergency remote learning and virtual events during the pandemic. We are grateful for the heroic efforts of the ITAS and CIT teams and their leadership.
Every year I am proud to present the Premier Awards to faculty, staff and students who exemplify the highest standards of scholarship, service, leadership and character. I encourage you to consider nominating a worthy student, faculty or staff member for one of these prestigious awards by the Nov. 1 deadline.
In case you haven't seen it, our Department of Human Resources has unveiled an inspiring videoto welcome new faculty and staff to our community. This recruitment and orientation tool effectively highlights the University's traditions, values and expectations. It is also a good reminder that whether your journey at the Capstone is just beginning or you are a seasoned employee, you make it possible for us to accomplish our mission.
And finally, please join our efforts to provide meals for underprivileged children and families in West Alabama through the Beat Auburn Beat Hunger Food Drive and help us continue to dominate this friendly rivalry for a good cause.
It is an honor to work in partnership with you.
Roll Tide!
Stuart R. Bell
President