A Message from the President – October 25, 2022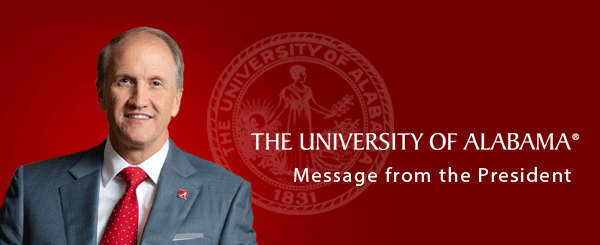 Dear Students, Faculty and Staff,
It was so good to witness the outpouring of UA pride this past weekend at homecoming! Not only did we welcome back friends, fans and alumni for an impressive Crimson Tide victory, we also celebrated our homecoming court and announced our 2022 queen, Ellery Hill, who was crowned during halftime on Saturday.
Students, I appreciate you taking time to thank the many donors who support our mission and generously contributed or pledged close to $226 million in another record fundraising year. Our donors support our efforts to provide world-class educational opportunities for all students through the outstanding work of UA faculty and researchers. Annual funding from UA's industry partners has also increased by nearly 500%, furthering opportunities for students, innovation and job growth in the state.
Congratulations to Executive Vice President and Provost James Dalton for his formal induction into the National Academy of Medicine earlier this month after a pandemic-based delay. Membership is considered one of the highest honors in the fields of health and medicine.
Every October, we recognize National Disability Employment Awareness Month and commend the contributions of our community members with disabilities past and present. Recently, UA was named an "Employer of the Year" by the Alabama Governor's Committee on Employment of People with Disabilities.
Finally, the results from the second campuswide CHIME IN workplace experience survey of UA faculty and staff reveal continuing strengths and opportunities for progress as part of our culture of persistent improvement. The feedback provided bolsters our strategic plan, Advancing the Flagship: The Next Phase, by fostering an environment that aids in the recruitment, retention, growth and support of our outstanding faculty and staff.
There is no other community like ours at The University of Alabama — the place Where Legends Are Made. I look forward to seeing faculty and staff at Fall Campus Assembly tomorrow afternoon. It is my ongoing honor to serve as your president.
Roll Tide!
Stuart R. Bell
President