A Message from the President – November 23, 2021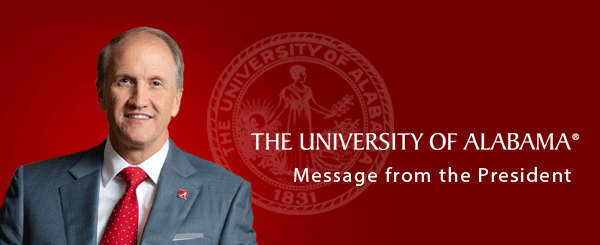 Dear Students, Faculty and Staff,
Thanksgiving break begins Wednesday for our students, and it's an especially meaningful holiday this year as more families and friends will be resuming traditional gatherings. I know you're looking forward to being with your loved ones and celebrating the many reasons we have to be grateful. Susan and I are especially thankful for our UA family, and we wish everyone a safe and restful break filled with the aromas, sights and sounds of home.
Please join me in congratulating senior Nicholas "Nick" Hayes for his selection as UA's 16th Rhodes Scholar. A Randall Research Scholar, Nick was one of only 32 students in the country to be chosen for his outstanding scholarly achievements, character, commitment to service and potential for leadership in applied mathematics and German. We commend his success and recognition from one of the most established and celebrated international fellowship awards in the world. We also applaud all our students for setting a new school record and collecting over 319,000 pounds of food for the West Alabama Food Bank in our annual Beat Auburn Beat Hunger Food Drive.
Moreover, we are thankful for a record-breaking year at The University of Alabama, where our research efforts have realized remarkable success. The University is now ranked No. 1 in the SEC and in the top 10 among all 131 Carnegie-designated research universities in the nation for research growth. UA faculty, staff and students continue to expand knowledge, spark innovation and better society in significant ways.
Earlier this month, we officially dedicated Wade Hall in honor of Dr. Archie Wade. A legendary and beloved professor, Dr. Wade was the first Black UA faculty member, a founding member of the Black Faculty and Staff Association and actively involved in the integration of our football program. Having worked for 30 years in the building that now bears his name, Dr. Wade continues to be an inspiration.
Congratulations to Dr. Laura Reed, associate professor of biology, our winner of the 2021 Blackmon-Moody Outstanding Professor Award. A specialist in evolutionary genomics, Dr. Reed was chosen for her leadership as director of the Genomics Education Partnership, which has amplified funding and significantly increased student engagement. Dr. Reed's work continues to bring us notable recognition and inspires creative thinking, research and science.
While enjoying the cooler temperatures, I'm certain you have also been appreciating the melodic sounds of "New York, New York" and "Yea, Alabama" on campus recently, as our Million Dollar Band is preparing for its first appearance in the Macy's Thanksgiving Day Parade. The band will march down Central Park West in New York City to represent UA as the largest and one of the most talented student organizations on campus.
Much farther away, UA's Dr. Jennifer Feltman is also representing the Capstone in Paris through her hands-on research, contributing to the restoration of the famed Notre Dame Cathedral. Dr. Feltman is one of only 14 specialists appointed to begin working on the project. It is a privilege to have an esteemed member of our faculty involved in the historic restoration.
Whether in Tuscaloosa, New York City or even Paris, UA's fingerprints can be seen almost everywhere. Drawn together by a shared purpose and driven by our mission, our efforts make a difference. Whether faculty, staff or student, what you do every day contributes to our legacy as the Tide continues to rise. I'm thankful for you!
Roll Tide,
Stuart R. Bell
President