A Message from the President – May 26, 2021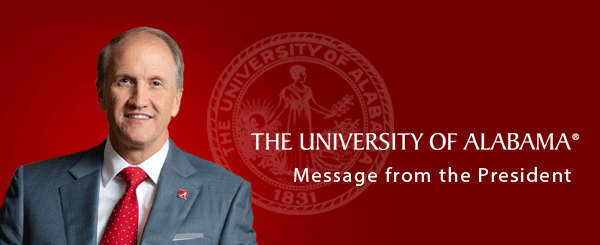 Dear Students, Faculty and Staff,
Welcome to the start of the summer sessions at the Capstone. We are glad to have many of you on campus. I am delighted to share some of the exciting successes we have witnessed over the past few weeks.
UA's championship status continues to be validated nationally. Well-deserved congratulations are due to Coach Patrick Murphy and the Alabama softball team for a legendary season. Earlier this month the team won the 2021 SEC Tournament with Montana Fouts and Bailey Hemphill setting the SEC tournament strikeout and UA all-time home run records, respectively. This past weekend, we hosted the NCAA Softball Regionals in Rhoads Stadium as the No. 3 national seed, and our team dominated three games without surrendering a single run. We will host Kentucky for the Super Regional beginning Friday at noon. With results like these, Alabama continues to set the standard.
Student accolades continue with four new Fulbright Awards, including a Fulbright Student Research Award and three Fulbright English Teaching Assistantship Awards for the 2021-2022 academic year. We are also pleased to learn last year's five UA Fulbright Student Award recipients who were unable to travel to their host countries are expected to be able to serve this year as travel restrictions ease. UA students continue to excel in significant academic pursuits locally, nationally and worldwide.
Our students' achievements are built upon the strong foundation provided by our academic community. Congratulations to Dr. Steven Jones who was named a Fulbright Scholar Alumni Ambassador and will serve a two-year term. He will share his Fulbright experience from his time in Namibia on college campuses and at academic conferences across the United States. In addition, nine members of the UA faculty were recently honored for their research and creative contributions as part of Faculty Research Day, which highlights and celebrates excellence in research, creativity and scholarship. UA's research growth places us at No. 1 for all 14 universities in the SEC, No. 1 for all research universities in the state of Alabama and No. 9 for all 131 Carnegie-designated R1 universities. Our faculty and students continue to engage in meaningful research projects to creatively solve real-world problems.
Finally, I want to remind every member of our campus community that COVID-19 vaccinations are available to all UA students, faculty and staff at the Student Health Center and University Medical Center. Please carefully consider being vaccinated as we continue to plan for normal, on-campus operations this fall. Please help us protect yourself — and our community—by being vaccinated.
Enjoy the sunshine and warmer temperatures. It's going to be a great summer at UA!
Roll Tide,
Stuart R. Bell
President