A Message from the President – March 22, 2022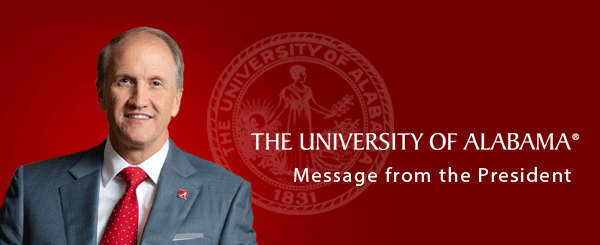 Dear Students, Faculty and Staff,
I hope you have returned to our campus with renewed vigor and focus as classes resume for spring semester. For those in the final stretch of your educational journey, we look forward to celebrating commencement with you in one of our eight ceremonies May 6-8 at Coleman Coliseum. You will be a #BamaGrad in just a little over six weeks!
As the semester continues, our students remain involved and committed. First, congratulations to international studies and political science double major Ben Borja for earning a Critical Language Scholarship to study Mandarin in China this summer. Also, students across campus can look forward to several events to facilitate networking opportunities and highlight research success.
More than 400 students will present at the Undergraduate Research and Creative Activity Conference in the Bryant Conference Center on April 4. Over 275 submissions will underscore the prevalence of research and creative endeavors in all academic areas across our campus. In addition, UA's inaugural Women in Business Conference, hosted by the Culverhouse College of Business Office of Diversity, Equity and Inclusion, will be held March 25-26 to highlight the vital role of women in business and leadership.
Faculty and staff, please join me in celebrating UA's recognition as a university committed to supporting first-generation students. Recently, the National Association of Student Personnel Administrators selected the Capstone Center for Student Success to participate in the 2022-2023 First-gen Forward cohort. The initiative demonstrates the success of our ongoing efforts to encourage and support our students who are the first in their family to attend college. We know the power of a degree from The University of Alabama to change lives, bolster communities and empower families for the future.
As a community, we continue to remember and support our students, faculty and staff impacted by the events in Ukraine. Recently, the UA Counseling Center offered two free support group meetings, and I encourage any students affected by the crisis to continue using the Center's resources. The Capstone International Center is also available for advising and assistance for our international students. Concerned UA employees can confidentially use the Employee Assistance Program, which runs in partnership with Uprise Health. We are one family at UA, and we share a united vision with the international community for reestablishing peace and safety for the people of Ukraine and the surrounding region.
Faculty and staff, also please remember that beginning tomorrow we need you to CHIME IN and share valuable feedback about your workplace experience. The survey will run through Tuesday, April 5. The University remains committed to your professional and personal growth and career satisfaction.
Finally, in recognition of the recent passing of Dr. Autherine Lucy Foster, UA will honor her legacy by hosting a memorial service on Thursday at 11 a.m. in Foster Auditorium. Members of the UA community are invited to attend.
It is my distinct honor to serve as your president.
Stuart R. Bell
President