A Message from the President – March 2, 2021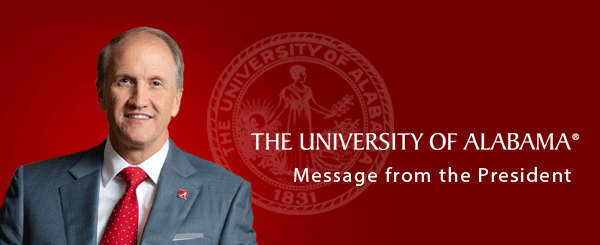 Dear Students, Faculty and Staff:
One of the most important values at The University of Alabama is the belief in the inherent dignity of every member of our community. Each semester, I reaffirm our pledge to promote and preserve a safe, respectful campus environment. We remain steadfastly committed to preventing sexual misconduct and any egregious behavior that threatens the freedom or respect due to every human being.
To that end, the University provides numerous resources, support and reporting options for victims of sexual assault, sexual misconduct, relationship violence, gender discrimination and harassment of any kind. We will continue to support survivors and to investigate complaints in an appropriate, unbiased manner that respects due process.
I encourage each of you to review the information and links provided in this message to be informed about the resources available to assist the members of our community, as well as providing contact information for reporting incidents. Please take the time to review UA's Title IX and Sexual Misconduct Policy, which was updated in August 2020. I also encourage you to visit the UAct website, which was created as part of UA's commitment to raise awareness and promote the prevention of sexual violence. For comprehensive Title IX information and to report sexual misconduct, please call the University's Title IX Coordinator, Jessica Humber, at 205-348-0582 or email her office directly at titleix@ua.edu. To report misconduct, the UAPD may also be contacted 24 hours a day, 7 days per week by calling 205-348-5454. Please also note that in the case of an on-campus emergency, bright blue emergency phones are available and are clearly marked. Each is a direct line to the UAPD Communications Center, and no dialing is necessary.
Additional support includes the Women and Gender Resource Center (WGRC), which provides free, confidential counseling and advocates who are on call around the clock, including weekends and holidays. Additional counseling services are available to students at the Counseling Center and to employees through the Employee Assistance Program. Another important agency is the Tuscaloosa SAFE Center, which provides free health care, advocacy and compassionate counseling services to victims of sexual assault.
The UA Student Health Center and the UA Safe Zone Resource Center provide other vital support. The UA Safety App is a valuable tool that can provide immediate access to information during an emergency, including the ability to contact campus and law enforcement agencies. All of the resources at the Capstone are available to serve members of our community and guarantee everyone has the tools and support needed.
The University of Alabama takes the issue of sexual assault and any type of misconduct very seriously. We have a shared responsibility to create and maintain a culture of safety and respect. Please remain Tide Together, review the information presented here carefully and partner with us in our ongoing pursuit of dignity and well-being for all.
Stuart R. Bell
President