A Message from the President – March 1, 2022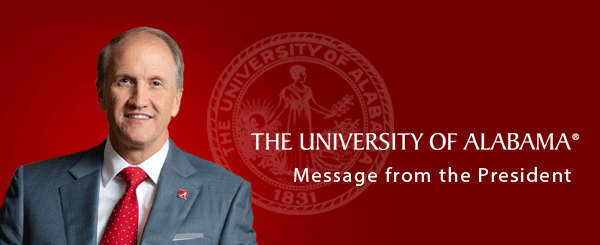 Dear Students, Faculty and Staff,
Last Friday was a historic day at The University of Alabama and a testament to the character and generosity of our campus, alumni and friends. We gathered as a community to dedicate Autherine Lucy Hall in honor of Dr. Autherine Lucy Foster. It was a privilege to pay tribute to Dr. Foster, a humble alumna and living legend, by adorning the building that houses our College of Education with her name. As our future teachers enter the hall, they will recall Dr. Foster's influence and courage as a pioneer for civil rights and be reminded of their own opportunities to impact their students and generations to come. At the ceremony, the state of Alabama also awarded Dr. Foster a master teacher certificate for her celebrated career as an elementary school teacher.
We also announced a momentous gift commitment of $20 million in honor of the late Mark Smith by his wife, Linda, and her son and daughter-in-law, Clay and Cameron Smith. Pending final approval by the UA System Board of Trustees, we will name the Performing Arts Academic Center — a facility that will allow us to fully showcase our students' exceptional talents — the Smith Family Center for the Performing Arts. The Smiths' generous contribution is the largest gift in University history allocated for the construction of an academic facility.
In addition to being an incredible legacy for the Smith family, their philanthropy propelled UA's Rising Tide Capital Campaign past $1 billion in charitable contributions. Already, more than 133,000 donors have contributed to the campaign, creating over 650 new scholarships, establishing nearly 40 new faculty endowments and affecting impactful changes to more than 500,000 square feet of campus. We are thrilled by what has been accomplished to date and look forward to seeing more of the direct impact on our students, research efforts, faculty endeavors and much more.
We are also proud of UA's student-led Capstone Agency, which recently held its annual CreateAthon. In 24 hours, over 60 students donated the equivalent of almost $58,000 worth of services to 10 local organizations, including the Boys & Girls Club, Turning Point, Books to Prisons and Family Counseling Services. Through the power of service and purpose, UA students continue to exhibit an unwavering commitment to community.
March is another opportunity for our students to shine with the annual Edward K. Aldag Jr. Student Business Plan Competition. The event is an exciting occasion for UA students to demonstrate their creativity and innovation by presenting business ideas that have strong potential. If you have an entrepreneurial spirit, the courage to share your ideas — and could benefit from prize money — be sure to sign up by March 4. Visit UA's Alabama Entrepreneurship Institute's website for more details.
March is Women's History Month, and UA's Division of Diversity, Equity and Inclusion is hosting several special events to commemorate the significant achievements of women on our campus and throughout American history. This month also provides our UA community with a well-deserved respite during spring break. I hope you will enjoy time off to relax and recharge.
Truly, it is a remarkable season at the Capstone. As we continue authoring our next chapter, the contributions of our students, faculty, staff and alumni are the essence of our story. Thank you for your influence and for supporting our constant quest for excellence.
Roll Tide!
Stuart R. Bell
President