A Message from the President – July 26, 2021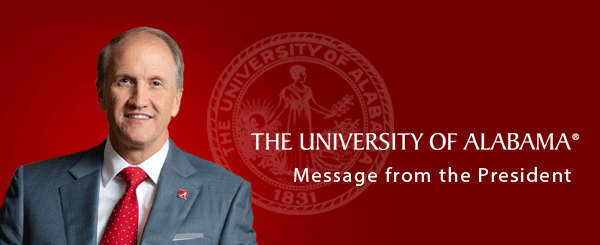 Dear Students, Faculty and Staff,
Last week, The University of Alabama System released an update to the System's Comprehensive Health and Safety Plan, including important policies for the upcoming fall semester. Please review UA's Fall 2021 Plan for Operations carefully and adhere to the guidelines in place to help protect our UA community.
I strongly encourage all students, faculty and staff to be vaccinated as soon as possible to help prevent the spread of COVID-19. We must do all we can to stay healthy, care for others and ensure that a robust Alabama experience is possible for everyone this fall. All students who upload proof of vaccination will receive a reward in the form of Bama Cash as a thank you for doing their part to protect themselves and our community.
As we continue to anticipate the fall semester, the summer term at UA is drawing to a close. We look forward to celebrating the accomplishments of our graduates with friends, family and our UA community at summer commencement this weekend. Over 1,400 talented men and women are poised to take their next steps as distinguished UA alumni and leaders in their respective career fields and communities.
UA's championship status continues to command prestigious national recognition. Congratulations to the Alabama Astrobotics team for recently winning NASA's Robotic Mining Competition. The victory marks the seventh time in nine years the team has clinched the title in what was its sixth consecutive win for UA and the College of Engineering. Very impressive!
Beyond the national stage, our athletes are primed for international prestige, with four current student-athletes and 17 alumni representing 13 countries competing in the Tokyo Olympics. Additionally, six current student-athletes are preparing to compete in the Paralympic Games. I know Bama fans everywhere are cheering them on in their respective events, and we will all be watching the results with pride.
Finally, I hope you are continuing to enjoy the stories of the Everyday Champions we have been featuring to highlight some of UA's legendary faculty and staff. Individuals such as Jeanine Brooks work behind the scenes, boldly support our community's efforts and embody the spirit of the University. I invite you to nominate a champion in your department, division or college, as the efforts and positive impact of one have a strong influence on us all.
I am thankful to each of you for the way you support and represent the Capstone.
Roll Tide!
Stuart R. Bell
President