A Message from the President – Final Week of Spring 2020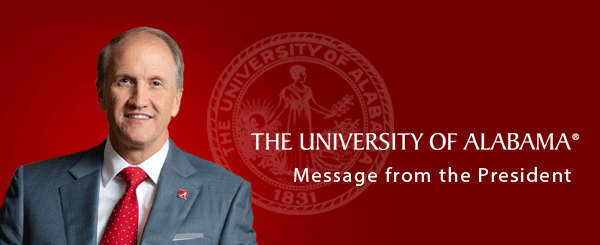 Dear Students, Faculty and Staff:
Today we are beginning the final week of the spring semester. Students, I know you have been diligently preparing for your exams this week. Your professors continue to compliment the quality of the work you are doing. Each class you complete takes you one step closer to accomplishing your goals, and with every bit of new knowledge and each valuable experience, you increase your legendary potential. Finish strong and be confident in what you have learned this semester. We are very proud of you!
Over the past few weeks, many students have continued to make impactful societal and academic contributions. Students in UA's opera theatre program have delighted the elderly and those self-isolating at home by singing uniquely tailored songs through videoconferencing and phone calls. We are grateful for Dr. Paul Houghtaling, professor of opera, and all students involved for bringing special musical concerts and joy to homes within our communities. Senior Alexus Cumbie, an Algernon Sydney Sullivan Award winner, was recently featured in the Sullivan Foundation magazine in the article "The Beloved Community – Alexus Cumbie's Poetry, Policy and Passion for Changemaking." Cumbie was recognized for the contributions she has made and the honors she has received during her four years at the Capstone. She was also one of 50 college students who interned with the Congressional Black Caucus Foundation in Washington, D.C. last fall with the help of a stipend through UA's Career Center.
I want to congratulate Dr. Sharony Green, UA associate professor of history, for being awarded the2020 PEN/Jean Stein Grant for Literary Oral History for her nonfiction literary work, "The Baa Haas." Dr. Green has conducted extensive research since 2013 for the project, and we are proud of her well-deserved recognition. UA's ACCESS Support Center, in collaboration with the Alabama State Department of Education, continues to offer free online courses for grades 7-12 throughout the state of Alabama for educators and students seeking high-quality instruction while learning at home. The Office for Undergraduate Research remains very productive as well. Its premier undergraduate research event, the Undergraduate Research and Creative Activities Conference, was recently held virtually. More than 250 students participated, and student projects and presentations are still available for viewing. Undergraduate Research also extended its recruitment of students for fall 2020's Emerging Scholars Program to the virtual realm and is just one of the many UA research programs incoming students can join.
Finally, today we are commemorating the nine-year anniversary of the tornadoes that struck Tuscaloosa and the surrounding region. We faced another unparalleled time in our community's history in 2011, but we rallied together to help with recovery, to mourn and to rebuild. I hope you will pause today to honor the 53 lives lost in the storm, including six UA students and one UA employee. On campus today at 5:13 p.m., Denny Chimes will ring 53 times in their honor. Throughout the day, you can also positively impact others in a variety of ways, such as thanking first responders, supporting the local economy or donating blood. Our UA community remains resilient and ready to lend a hand to help those in need.
Again, I wish everyone the best this week. As we prepare to transition to the summer sessions, The University of Alabama remains committed to the success of our students, faculty and staff. I look forward to welcoming everyone back home to campus in the future, and I am honored to serve as your president.
Stuart R. Bell
President