A Message from the President – February 14, 2022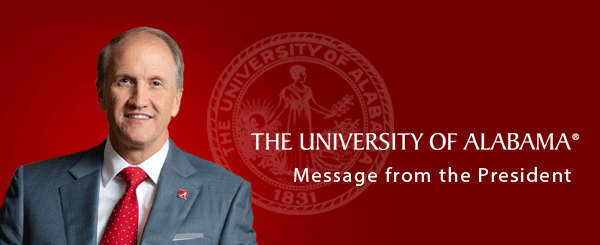 Dear Students, Faculty and Staff,
On Friday The University of Alabama System Board of Trustees passed a resolution to amend the name of the building that houses our College of Education to Autherine Lucy Hall. We are honored that Dr. Foster's name will grace this prominent campus landmark for future generations — acknowledging the great power of an individual with purpose. We are proud to call her an alumna of this institution, and I am grateful to call her a friend. I hope you will make plans to join us for a celebration of Dr. Foster's legacy at a dedication ceremony in front of Autherine Lucy Hall on Feb. 25 at 3 p.m.
Facilities are an important part of our landscape and an important part of supporting our mission. Drummond Lyon Hall will be a cutting-edge facility and the future home of our fashion retailing and apparel design concentrations. Made possible through the generosity of many, especially alumna Terri Drummond Lyon, the new building will accommodate the growth and teaching needs of these programs.
Recently, as part of Phase II of The Crimson Standard initiative, we announced the planning for a new competition arena for Alabama men's and women's basketball and gymnastics teams and a new golf practice facility. As the Tide Rises, new and upgraded UA facilities will continue to be intentional investments in our students and our future.
Special recognition is due to UA junior Simran Dhoju for earning a Brooke Owens National Aerospace Fellowship. One of only 51 students in the nation to earn the nationally acclaimed award, she also has been named an American Institute of Aeronautics and Astronautics Diversity Scholar and is currently a project manager with the Alabama Rocketry Association. Without question, she will continue to inspire and motivate many others in the aerospace industry.
As we continue to celebrate Black History Month, I want to congratulate students Jonathan Kelly, Za-Nyah Truitt, Ta'Kyla Bates, Deja Evans and Christine Thompson — the core members representing the Capstone in a competition centered on Black history. It was UA's first appearance in the Black History Scholars Bowl, and we're proud of their second-place finish by a very close margin. Events such as this are an integral part of our Path Forward and the inclusive, educational environment we offer at the University.
Campuswide, our community is also serving children through the 16th annual Books for the Alabama Black Belt campaign, sponsored by The University of Alabama Center for Economic Development. Through donations of new or gently used books, we can change the lives of young students in disadvantaged counties by encouraging their love for learning and reading. I encourage you to donate before the Feb. 25 deadline.
Finally, we are pleased to honor Dr. Sharlene Newman, executive director of the Alabama Life Research Institute. She was awarded one of the most distinct honors within the scientific community by being elected as a Fellow to the newest class of the American Association for the Advancement of Science. Dr. Newman joined UA in 2019 as part of UA's prominent cadre of engineers, scientists and pioneers who are advancing research that makes a significant difference in the lives of those we serve.
We have much to celebrate and even more to look forward to this spring. It is an honor to serve as your president.
Roll Tide!
Stuart R. Bell
President