A Message from the President – February 1, 2022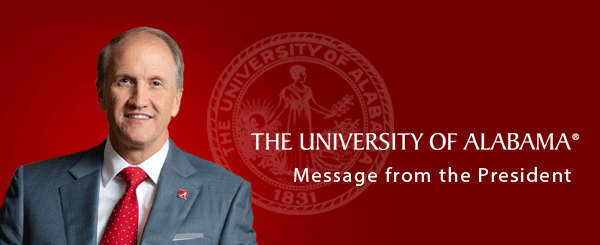 Dear Students, Faculty and Staff,
February is Black History Month and a special opportunity to recognize the students, alumni, faculty and staff who have influenced UA's history and legacy through their contributions and achievements. I encourage you to explore, celebrate and learn from our history, including the events, resources and exhibits offered throughout the month, both on our campus and in the surrounding community.
Though we are only in the second month of the new year, UA students continue to inspire through remarkable success. Congratulations to Alabama Cheerleading and our coaches for claiming the UCA Division 1A All-Girl National Championship title, the program's third win in Division 1A and its sixth national title overall. We also recently released the fall 2021 Dean's and President's lists, with almost 12,000 undergraduates recognized for their outstanding academic accomplishments.
Our distinguished UA faculty and staff continue to innovate and influence. Assistant Professor Dr. Steve D. Mobley Jr., who joined our faculty in 2016 and whose work examines institutional and interpersonal equity, was recently selected as one of the nation's top 15 emerging scholars under the age of 40 by "Diverse: Issues in Higher Education." In addition, a team that included Associate Professor Dr. Brandon Dixon and doctoral student Cole Frederick won first place and set a new world record for speed in the first self-driving racecar competition challenge at the Las Vegas Motor Speedway. And Stephanie Plumb, the creative voice behind 92.5 FM UA Info Radio, was recently recognized as a UA Everyday Champion for providing important public safety announcements and campus information.
I'm also pleased to highlight UA's ongoing leadership in national water-related research. We have partnered with the U.S. Geological Survey to build a new high-tech science and engineering Hydrologic Instrumentation Facility (USGS-HIF) on our campus. This mission-driven partnership will provide countless teaching, research and service opportunities for our students and faculty in an area critical to mankind.
Lastly, I want to recognize the Student Health Center and Pharmacy and the University Medical Center. The medical professionals and support staff in these areas have worked tirelessly to ensure the safety of our campus community and the continuation of our educational mission. Please join me in thanking them for their dedication and compassionate care.
Roll Tide!
Stuart R. Bell
President