A Message from the President – August 18, 2021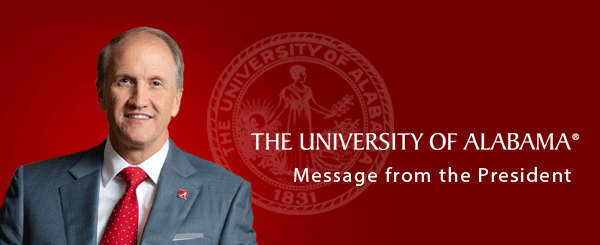 Dear Students, Faculty and Staff,
It is exciting to have everyone back on campus for what I know will be a remarkable, productive and life-changing Alabama experience. With classes beginning today, activities are in full swing, and campus is once again full of anticipation and energy. Please take advantage of the many wonderful opportunities available to you, keeping our health and safety protocols in mind.
Students, I hope you will participate in the many special events planned during the Weeks of Welcome. This morning I was excited to join several other administrators to serve you a welcome back breakfast at the Ferguson Student Center Plaza.
In addition to our amazing students, we continue to feature the most talented faculty and staff in the nation. Congratulations to Dr. Andrew Raffo Dewar, professor of interdisciplinary arts with UA's New College and School of Music, for being selected for two grants from the esteemed Fulbright program to teach and research abroad. Dr. Lesley Reid, professor and chair of our department of criminology and criminal justice, was named associate provost for faculty affairs effective Sept. 1 after previously serving as interim dean in two colleges. In addition, Dr. W. Edward Back has been appointed interim dean of the College of Engineering, bringing with his leadership a revered career in higher education and infrastructure engineering. We're also pleased to welcome Susan Norton, a talented professional with more than 25 years of HR experience, to the University as senior associate vice president for human resources on Oct. 1.
I hope you familiarize yourself with some updates and changes on campus this fall. Crimson Ride will be even easier to use with new route names and a mobile app to track buses. Bama Dining has added several perks for students and faculty, including an app for mobile ordering. And, the new 2nd Avenue Overpass opened this month and is already significantly helping traffic flow.
Awesome activities, talented students, dedicated faculty and staff, and a beautiful, innovative campus — what a semester it will be as we learn, work and grow Tide Together! I am grateful to everyone who has made our return possible. Please wear your mask, get vaccinated to keep you and our campus safe, and continue to use healthinfo.ua.edu as a valuable resource for information and updates.
It is my continuing honor to serve as your president.
Roll Tide!
Stuart R. Bell
President