A Message from the President – August 17, 2022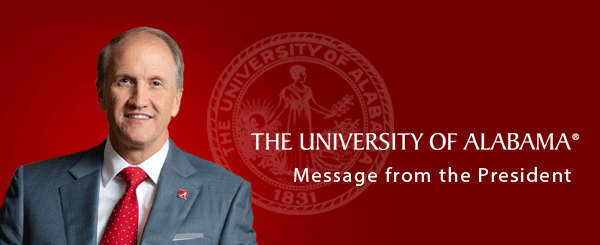 Dear Students, Faculty and Staff,
Welcome to Fall Semester 2022 at The University of Alabama!
Whether you are a student pursuing transformational educational opportunities, a faculty member equipping our students for future professional success or a staff member working to support our mission — I am thankful you are part of the UA community.
The beginning of a new semester always generates heightened energy around campus, and there are numerous fun activities planned this month to celebrate and welcome you to the Capstone. Students, I encourage you to begin your semester by enjoying the many events planned to help you get connected and feel at home. This week, we kicked things off with the annual Ripple Effect day of service on Monday plus the Script A event for new and incoming students Tuesday, and Weeks of Welcome activities will continue through Aug. 25. From our Welcome Back Breakfast to Get On Board Day, you have plenty of opportunities to make new friends and start creating lifelong memories. There are many other events both on campus and around Tuscaloosa for our entire community to enjoy.
As we look forward to all the fall semester has to offer, I want to thank our devoted faculty and staff for the preparation that has led to this moment. The work you are doing in the classrooms, laboratories and offices across campus is not only a worthy endeavor but an impactful one, shaping discoveries, lives and our shared future.
The Tide continues to rise, and today as classes begin — We ARE Alabama. Let's make it another fantastic semester!
Roll Tide!
Stuart R. Bell
President