A Message from the President – August 10, 2021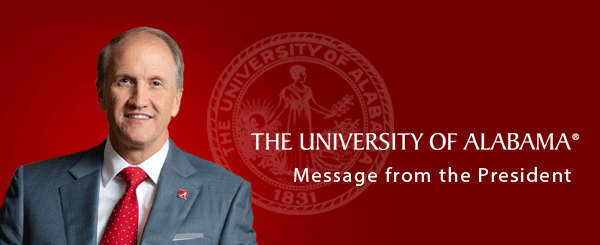 The countdown to the fall semester is underway, with only eight days remaining until the first day of classes. I am excited for the semester's start, and as our campus community prepares for a return to in-person instruction, events and activities, I want to emphasize again how important it is for you to be vaccinated to protect yourself and those around you from COVID-19.
Students, please call the UA Student Health Center to schedule your vaccine appointment or you may use the patient portal. In addition, Saturday vaccine clinics for students are being offered Aug. 14 and Aug. 21, and vaccine rewards are being provided for students enrolled for the fall semester. Faculty and staff, the University Medical Center offers free vaccination as well.
With safety strategies in place, we are hopeful that more people will be vaccinated and statewide and local cases will decline. We will continue to be flexible in the coming weeks and keep working together. Please help us stay Tide Together by getting your vaccine as soon as possible.
In other campus news, I want to thank Director Donald Keith and the devoted staff at UA's Office of Emergency Management for earning continuation of their emergency management accreditation, a noteworthy accomplishment that no other university has received. I am very proud of our Emergency Management team and their dedicated work, in unison with units across campus, to plan and prepare for emergencies.
Finally, I want to again congratulate our graduates from the summer class of 2021. UA's recent commencement ceremonies honored over 1,400 degree applicants, including 187 first-generation students. At one ceremony, I observed a first-generation student with a decorated cap that stated, "Nevertheless, she graduated." Yes, you did and we are very proud of you!
UA students are driven, pioneering and persistent. And, with the fall semester we look forward to welcoming a new class of rising legends.
Roll Tide!
Stuart R. Bell
President