A Message from the President – April 21, 2022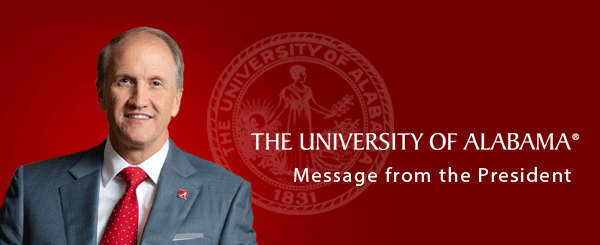 Dear Students, Faculty and Staff,
Yesterday, faculty and staff gathered for spring Campus Assembly to connect as a professional community while recognizing the commitment and efforts of all our people. Dr. Donald Keith and Dr. Stacy Jones were presented with prestigious UA awards for bettering the lives and experiences of countless students through their dedicated service to the Capstone.
April showers were in full force last weekend, yet students and devoted fans reveled in a first look at the Crimson Tide at the annual A-Day game. Prior to kickoff, we honored UA's first Black football players, Wilbur Jackson and John Mitchell, by unveiling a plaque outside Bryant-Denny Stadium. John Mitchell said it best at the ceremony, noting that his NFL coaching successes related to "the things that I learned right here at Alabama." He closed by stating, "I'm indebted to this great institution for the rest of my life." Our great institution is indebted to him, and to Wilbur Jackson, for what they have taught us about courage, grace and leadership.
Please join me in congratulating Dr. Clifford L. Henderson, the next dean of the UA College of Engineering, who will begin his tenure here Aug. 1. Dr. Henderson will continue the college's progressive trajectory of success. Dr. Stacy L. Jones has also been named the new dean of students after an impactful tenure of more than 28 years at the University.
Earlier this month, the University secured its position as the command center of national water research and operations following the announcement of a $360 million competitive grant from the federal government, the largest external award in UA's history. The grant from the National Oceanic and Atmospheric Administration will be administered by the Alabama Water Institute.
UA Honors College student Jules Bates became the 60th UA student recipient of the prestigious Goldwater Scholarship for 2022-2023. Bates, a participant in UA's Randall Research Scholars Program, has focused her efforts on neural stem cell therapy for the treatment of neurological disorders.
Recently, The University of Alabama School of Law ranked 25th among the nation's top law schools — ninth among publicly supported institutions — according to U.S. News & World Report's annual "Best Law School Rankings." We are proud of their ongoing success. The Crimson Tide Wheelchair Tennis team also claimed its seventh National Championship last weekend, its sixth consecutive championship title.
We Are UA, the University's faculty and staff giving campaign, and Bama Blitz 2022, UA's annual days of giving, conclude today. You can direct your support to a variety of key projects in UA's colleges, schools and units. All gifts also benefit The Rising Tide Capital Campaign.
Finally, I am looking forward to shaking hands with our newest graduates at commencement in Coleman Coliseum in just over two weeks. It is my ongoing honor to serve as your president.
Roll Tide!
Stuart R. Bell
President