A Message from the President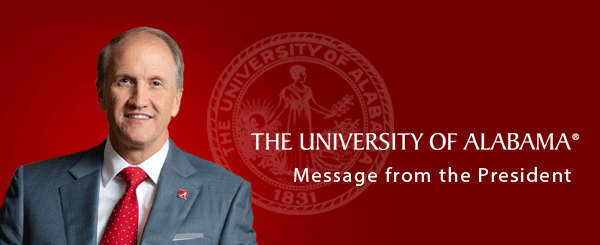 To students, faculty and staff:
This past week's increase in COVID-positive cases among our students is of grave concern to me and to everyone who loves and cares for The University of Alabama.
Our Health and Safety Plan is guiding our operations aimed at reversing this trend through educating, testing, reporting, specialized care for at-risk students and disciplinary actions when required. As we accelerate education and enforcement efforts on and off campus, we look to each of you to do your part.
Those who fail to abide by the Health and Safety protocols face serious consequences. To date, we have issued more than 400 conduct referrals for COVID-related violations. Interim measures removing individuals from campus have been imposed in several of these cases. Those who blatantly disregard the rules will not be given the option of jeopardizing the semester for everyone else.
In addition to wearing your mask and practicing social distancing, it is imperative that you comply with all aspects of our testing and isolation or quarantine protocols. Students with COVID symptoms should seek testing through the Student Health Center or the University Medical Center testing site at Coleman Coliseum.
If you choose to test off campus, you are required to share positive results with the CV19 Support Program immediately by calling 205-348-CV19. Anyone who fails to disclose a positive test or violates the University's isolation or quarantine protocols is subject to severe disciplinary action.
Sentinel testing will begin soon. The updated UA System Comprehensive Health and Safety Planoutlines mandatory participation for cause and cluster testing. Please read these updates carefully and contact the UA COVID-19 Support Program if you have questions.
Everyone who truly values the Alabama experience will continue to follow our Health and Safety protocols, which provide a path to complete the semester together on campus. I want to thank all of you – the vast majority of our campus community – for your sacrifice and commitment in support of our shared goals.
Tide Together,
Stuart R. Bell
President