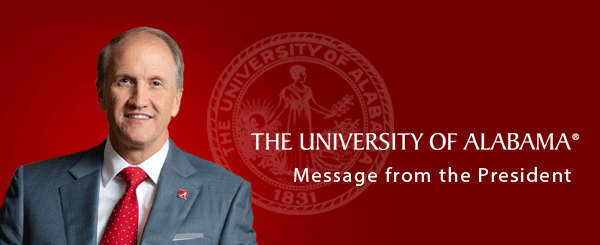 Dear Students, Faculty and Staff:
Students, it's finals week, and I encourage you to continue the exemplary work you've been accomplishing all semester. As courses wind down, your final exams and projects are an opportunity to demonstrate all you have learned. I'm proud of you for finishing another semester strong. Congratulations to those of you who are graduating for achieving such an important academic and personal milestone. We look forward to celebrating with you this weekend at commencement.
Celebrations are in order for Dr. Russell Mumper, vice president for research and economic development, who was just elected to the prestigious National Academy of Inventors. The NAI Fellows Selection Committee praised him for demonstrating "a highly prolific spirit of innovation in creating or facilitating outstanding inventions that have made a tangible impact on the quality of life, economic development and welfare of society." This is a well-deserved recognition. Congratulations, as well, to Dr. Ravi Kumar, director of the Center for Convergent Bioscience Medicine, for being selected for the Humboldt Research Award. Dr. Kumar's designation is further proof of his ongoing contributions to outstanding research, and the award brings additional recognition to the innovative research being conducted at the Capstone.
It was another record-setting weekend for Alabama Athletics, with our incredible student-athletes raising the bar as the first school to beat AP top-5 teams in college football and basketball on the same day. The atmosphere in the Mercedes-Benz Stadium was electric as Alabama fans cheered on the Tide to a 41-24 win over the Bulldogs. It was the 29th SEC title for the Crimson Tide and back-to-back championships. Congratulations to our coaches and players for the victory and for earning the top seed in the College Football Playoff. Commendations are also well-deserved for quarterback Bryce Young's nomination as one of four finalists for the 2021 Heisman Trophy, and for Will Anderson's selection as the recipient of the 2021 Bronko Nagurski Trophy.
During the holiday break, I encourage you to take time to rest and enjoy fellowship with family and friends. With all the activities of the season, it's easy for memorable moments to pass too quickly. Cherish this time with your loved ones and be present in the joy, celebrations and hope for the future. Susan and I wish you the happiest of holidays and peace and prosperity in the coming New Year.
Roll Tidings!
Stuart R. Bell
President