A Message from the President – May 31, 2022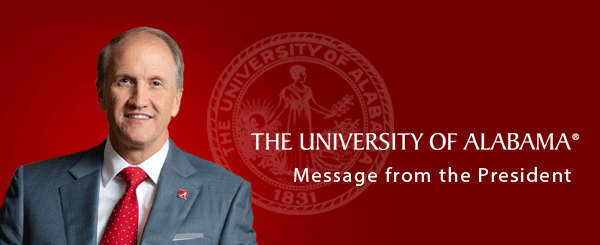 Dear Students, Faculty and Staff,
Welcome to summer! Summer term classes begin today with many UA students engaged in empowering coursework to further their educational goals. The 2022 Bama Bound experience also begins today, welcoming incoming students and their families.
Our freshmen and transfer students won't be the only new faces at the Capstone this summer. We are pleased to welcome Dr. Brian S. Butler, who will begin his tenure in July as the next dean of the UA College of Communication and Information Sciences. And a "welcome home and Roll Tide" is due to Ashley Johnston, our new head coach of Crimson Tide gymnastics. Coach Johnston was a 10 time All-American and member of back-to-back NCAA Championship teams at UA.
There is plenty of good news to share as we begin our summer academic sessions. The Fulbright Program, the most prestigious United States international exchange program, recently selected 18 University of Alabama students for various awards for the 2022-2023 academic year. Additionally, the Alabama Forensic Council, UA's competitive speech team, participated in four national tournaments and brought home a team national championship and seven individual national championships, among other awards.
The accolades don't stop there. Kittson Hamill is UA's newest recipient of the National Oceanic and Atmospheric Administration Ernest F. Hollings Undergraduate Scholarship. Moreover, doctoral student Tristan Maxson received a Department of Energy Computational Science Graduate Fellowship and became the first student in University history to earn the competitive award. Another record-breaking accomplishment was the awarding of the Benjamin A. Gilman International Scholarship to 21 UA students, the most students to win and the largest cohort in an application cycle at the Capstone.
Finally, we continue to bear witness to remarkable achievements from our legendary alumni. A tip of the cap to Justin Thomas, a former Alabama national champion and the winner of the 2022 PGA Championship. Internationally, nationally and right here in Tuscaloosa — our people are achieving at the highest level, and together we are making a difference as the Tide continues to rise.
Roll Tide!
Stuart R. Bell
President